Hand-dyed yarn No.197 sock yarn "Rose Adagio"
Regular price
Sale price
¥2,940 JPY
Unit price
per
Sale
Sold out
手染め糸に関するご注意

*実物に近づけて撮影していますが、再現しきれなかったり、お使いのパソコン、スマートフォン等によって見え方が異なる場合があります。
✳在庫は数点ありますが、それぞれ微妙に異なります。かせの結び方により印象が変わる場合もありますが、手染めならではの個性ですのでご了承ください。
繋いだ場合に違和感ない程度の差異です。
✳価格は1かせあたりの価格です。

✳ページ下部の糸の詳細はお取り扱いのベースすべての記載となりますので、タイトルにあるベース糸の項をご覧ください。ベース違いのオーダーは承っておりませんのでご注意ください。
'22. 7/8 resale (Lot.05).
It will be a hand-dyed one-of-a-kind item.

From Tchaikovsky's ballet music "Sleeping Beauty", I imagined Pa Daxingong, commonly known as "Rose Adagio", which is famous for the appearance scene of the heroine Princess Aurora.
The color expresses the appearance of the roses starting to bloom and eventually blooming into large flowers.
* * * * * * *
We offer a tamamaki service (for a fee). If you would like Tamaki, please add this to your cart.
この商品をシェアする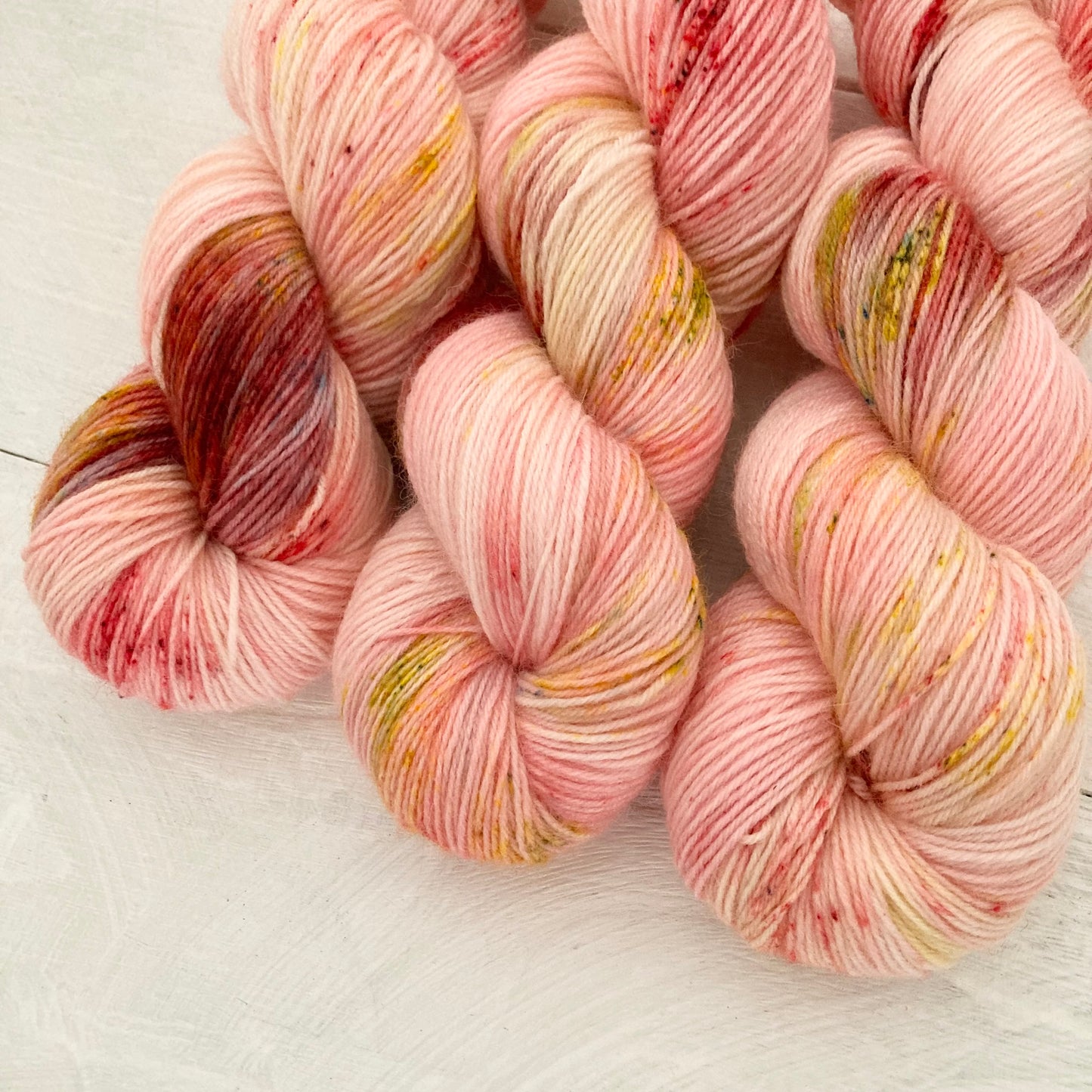 Specifications
sock yarn
75% superwash wool / 25% nylon
Fine to medium fine
4-ply / 100g / about 400m
Recommended knitting needle size: 2.25mm to 2.5mm (needles 2 to 3, crochet needles 2/0 to 3/0)
Gauge: 28-30, 38-40 steps
merino single
100% Superwashed Extra Fine Merino Wool
Fine to medium fine
1-ply / 100g / about 400m
Recommended knitting needle size: 2.25mm to 2.5mm (needles 2 to 3, crochet needles 2/0 to 3/0)
Gauge: 28 steps, 36 steps
4-ply Polwas
Super wash Polwas 100%
Medium thin
4-ply / 100g / about 400m
Recommended knitting needle size: 2.25mm to 2.5mm (needles 2 to 3, crochet needles 2/0 to 3/0)
Gauge: 28-30, 38-40 steps
BFL racing
100% Superwash Blue Face Leicester Wool
extra fine
2-ply / 100g / about 800m
Recommended knitting needle size: 3mm to 4mm (needles 3 to 4, crochet needles 3/0 to 4/0)
Gauge: 30-32, 40-42 steps
Kid Mohair & Silk
72% super kid mohair / 28% silk
extra fine
1-ply / 50g / about 420m
Recommended knitting needle size: 3mm to 4mm (needles 3 to 6, crochet needles 5/0 to 7/0)
Gauge: 32nd 40th stage
merino silk
75% Superwashed Merino Wool / 25% Mulberry Silk
Combined fineness
4-ply / about 400m per 100g
Recommended knitting needle size: 2.5mm to 4mm (needles 2 to 3, crochet needles 2/0 to 3/0)
Gauge: 28-30, 36-38 steps